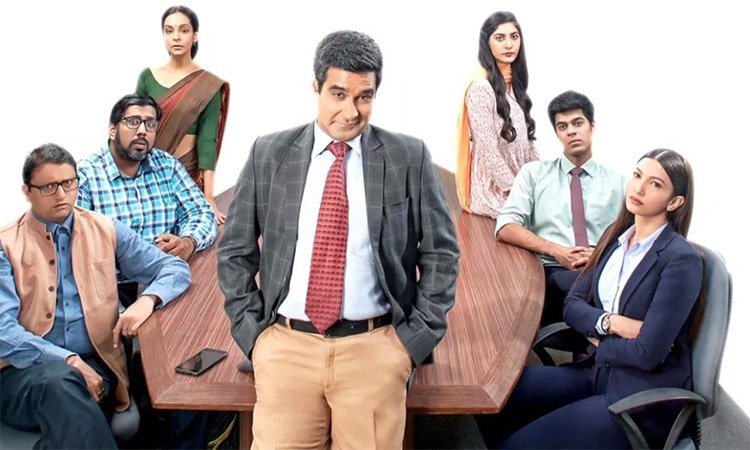 BOTTOM LINE: An Official Disaster
Rating: 3/10
| | |
| --- | --- |
| Platform: Hotstar | Genre:Comedy |
What Is the Story About?
At a corporate branch of Wilkins Chawla in Faridabad, an unfunny manager Jagdeep Chadda holds the fort firmly. Under him is a group of equally eccentric sub-ordinates comprising Amit, TP Mishra, Pammi, Kutty, Anjali, and others, who find different ways to quarrel among each other and take a dig at their boss on a daily basis. The office comes to a standstill when higher officials of the brand ask its manager to send pink slips to select employees as a cost-cutting measure. There's a wave of panic at the office and yet, everyone at Wilkins Chawla finds a way to go about their lives despite cribbing about their jobs regularly.
Performances?
Mukul Chadda, who plays the lead character in the show titled Jagdeep Chadda, is the series' weakest link. The actor, in a role where's hated by many around him, evokes a similar response from the viewer with his insensitive performance. His heightened sense of exaggeration, sarcasm, and portrayal as a sexist, regressive boss hardly works. Neither are we moved by his performance nor are we entertained by his antics. He tries too hard to be funny and had he let himself a little loose, this role could have worked to his advantage.
Analysis
Regardless of whether you've watched or not watched the American sitcom The Office, it's Indian adaptation is bound to disappoint you. The series gets many things wrong on so many levels. Firstly, for the story that supposedly describes the workings of corporate culture, the backdrop in the series looks anything but that. The old-fashioned setup of the office, from the interiors to the behaviours of the employees, reminds you of the portrayal of a boring government office, seen in serials and films across the 90s.
The characterisation of the lead role Jagdeep Chadda is extremely problematic. Not only is he unfunny, timid and irritating, but also disgusting for the way he treats his employees, makes snide remarks at women (specifically the Whatsapp groups), passes comments on supposed-Chinese looking people, South-Indian natives and the list goes on and on. Though the series makes an attempt to criticise and warn him for his behaviour, the writers soften his image miraculously towards the end. Another problem with the series is its inability to take a stance on what it wants to convey. Does this suggest a boss can get away with all these traits or is it usual for men to behave to like that?
Giving credit where it's due, The Office takes note of several concerns ailing the corporate setup, The problem comes with the maker's love for the original, so much that it doesn't want to take the Indian ethos into consideration anywhere. From colleagues playing kabaddi, antakshari, kushti, book-cricket, watching porn and knitting wool at work in a corporate office, nothing of this seems funny or serves as an accurate representation of the Indian corporate culture. There are several colourful characters that the series boasts of, but their representation (especially women) is rooted so much in patriarchy that it's hardly funny.
Sometimes, the series tries to be realistic and otherwise is content in finishing off episodes with slapstick humour. So it becomes tough to take the concerns of any character seriously. Across 13 episodes, The Office is way too long and doesn't break any new ground in storytelling. Neither have the directors Debbie Rao, Rohan Sippy and Vivek Bhushan adapted this well within Indian sensibilities nor have they made any attempt to better the original. Lazy writing, tepid execution make this a never-ending, cumbersome ride.
Other Artists?
The generally dependable character actor Gopal Dutt is downright irritating as an assistant to the branch manager. His attempt at humour truly falls flat. Gauhar Khan shines in a brief appearance, while Sayandeep Sengupta and Samridhi Dewan share infectious on-screen chemistry in a well-written, underplayed romantic track. Priyanka Setia, after Begum Jaan, doesn't get much scope to make an impact in the series, only asked to wear a forever-grumpy expression. Preeti Kochar as Sarla, the woman who does nothing but knit wool through her office hours, is at her adorable best, but the cheap, vile humour targeted at her is written in extremely poor taste.
Music and Other Departments?
Sagar Desai, the composer behind several off-beat films and digital series, keeps his score extremely situational and does what's expected of him. He doesn't overdo anything and that's enough for a series that's not exactly dependent on its music score to deliver the goods. Cinematographer Hemant Chaturvedi's task of telling the story within the very same office and similar visual elements across an entire series is challenging, he lives up to his job and stays rather loyal to the original. The writing of the series lets itself down the most without a proper understanding of the corporate space and its complexities in an Indian context.
Highlights?
Focus on pertinent issues within the corporate space
The romance track between the salesman and the receptionist
Drawbacks?
Terrible writing and adaptation
The inconsistent tone in humour, dealing with issues within the office space
Poor casting and performances
Absence of a strong plot
Did I Enjoy It?
No
Will You Recommend It?
No
Review by Srivathsan Nadadhur
We Are Hiring - If you love binge-watching and follow everything related to the various OTT platforms and their content, here is your chance to turn the passion into a profession. Below positions are open:
1. Content Writer
Get in touch with us at [email protected] with sample articles.
Summary
Reviewer
Review Date
Reviewed Item
The Office Hotstar Review
Author Rating